Community Futures Digital Program Business Walk/Info Session
June 21, 2022 @ 9:00 am

-

4:00 pm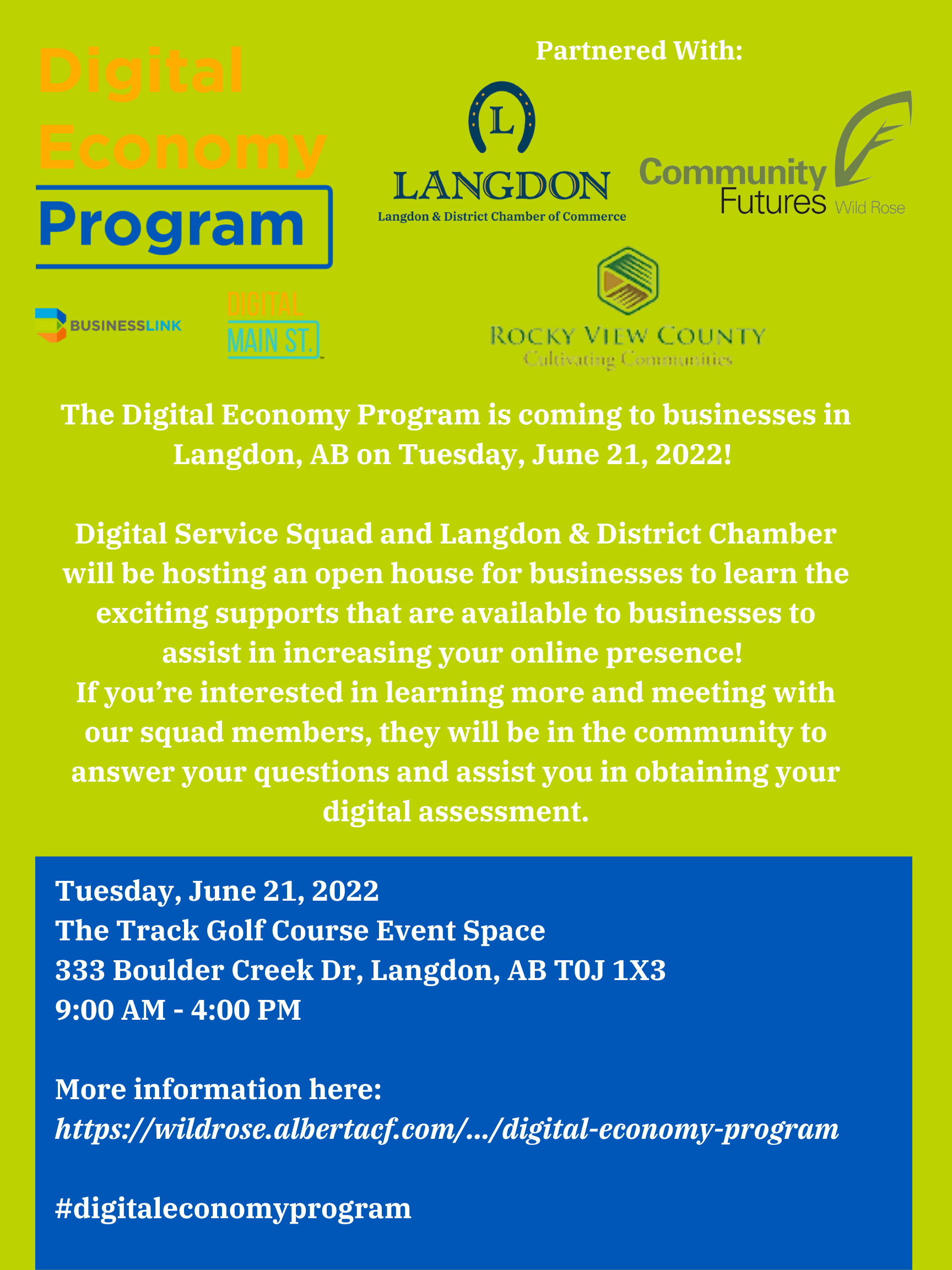 Community Futures will be in town June 21, 2022 to complete an Info session/business walk to spread the word about the Digital Economy Program. The Digital Economy Program (DEP) is designed to help small businesses take their businesses online. This program, a partnership between Business Link and Digital Main Street, will help small businesses in Alberta undergo digital transformations and adopt eCommerce practices. DEP is open to home-based or commercial small businesses registered in Alberta with less than 50 employees. The program consists of 2 parts: Digital Service Squads guiding businesses through digital transformation and ShopHERE powered by Google guiding businesses through launching and managing their online stores. Small businesses can apply to participate in one or both programs, free of charge.
For more information on the program. Please check out the website https://dep.businesslink.ca/
Details for the day – June 21st:
Opening Remarks – Wendy Gerbrandt. Introductions to Caleb and Chris and a very brief overview of CF Wild Rose
Presentation 1 – Digital Economy Program. What is it? What will businesses receive? How to register? – (15 minutes plus Q & A, Presenter – Caleb Stone). We will also have a Chromebook available for individuals to sign up and of course, they can book their one-on-one if they haven't already done so.
Presentation 2 – Using the Business Model Canvas to guide entrepreneurs through transitions in your business. (15 – 20 minutes presentation and Q & A, presenter, Christopher Steeves). Businesses will learn how the business model canvas will help entrepreneurs identify how even small changes can impact their business and how to guide you through any changes.
Afternoon – One on One Digital Assessment and Business Consultation Sessions:
Book a FREE 30-minute consult with a Digital Service Squad member to assist you in completing a digital assessment and establishing goals to get started on increasing your online presence today!!!
Book a FREE 30-minute consult with Christopher Steeves, Business Analyst. During your 30-minute consult, Chris will be there to help you with the Business Model Canvas and how it relates to your business or discuss a new start-up or expansion idea you may have.
Booking Link – <ahref='https://outlook.office365.com/owa/calendar/CommunityFuturesWildRoseLangdonBusinessBookings@albertacf.com/bookings/'>Schedule online</a>