Whether you are a current resident or looking at relocating to Langdon, below you will find the most frequently requested phone numbers and information for Langdon & Rocky View County. Should you not find what you are looking for, please do not hesitate to reach out and we will do our best to help you.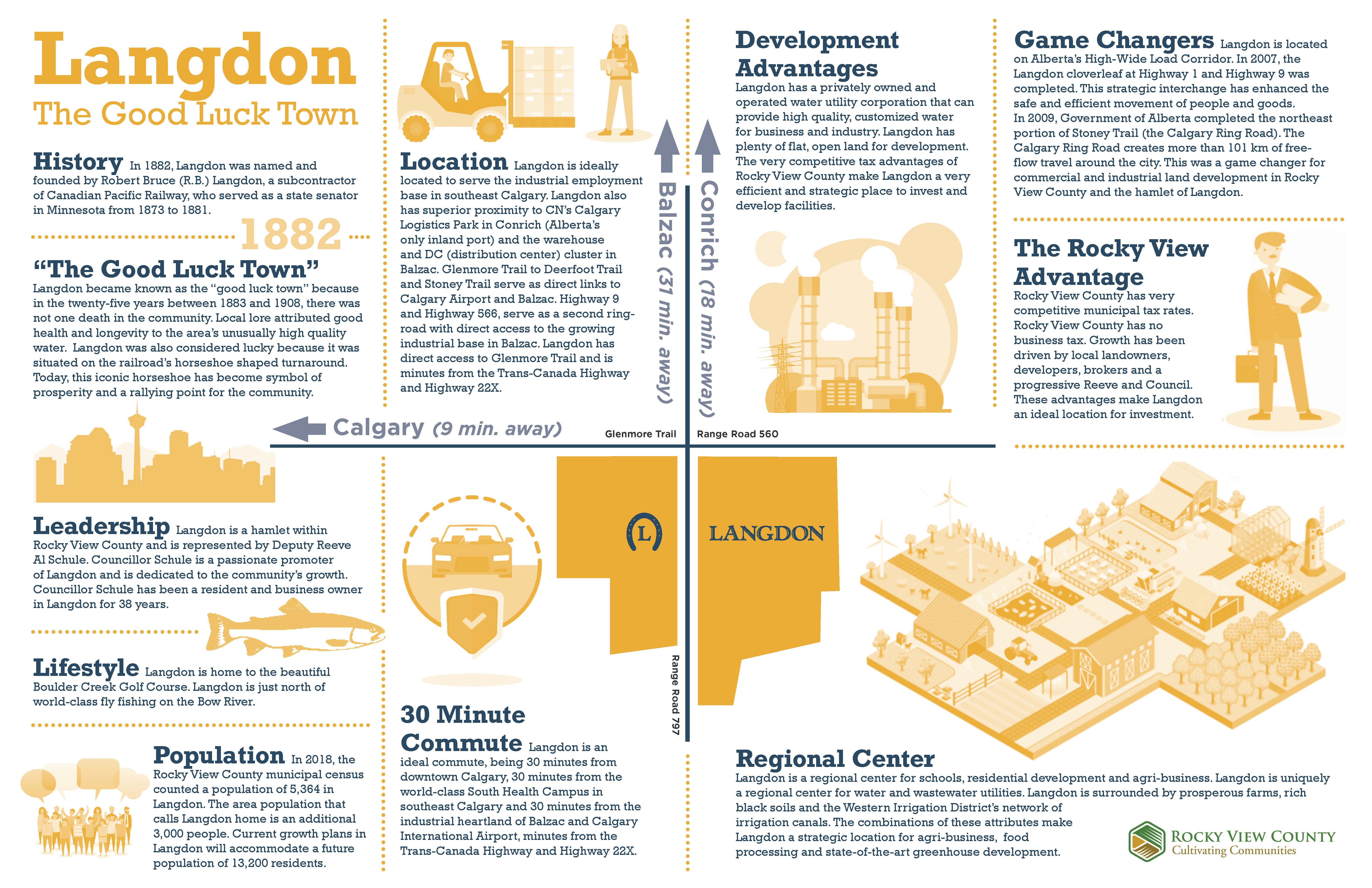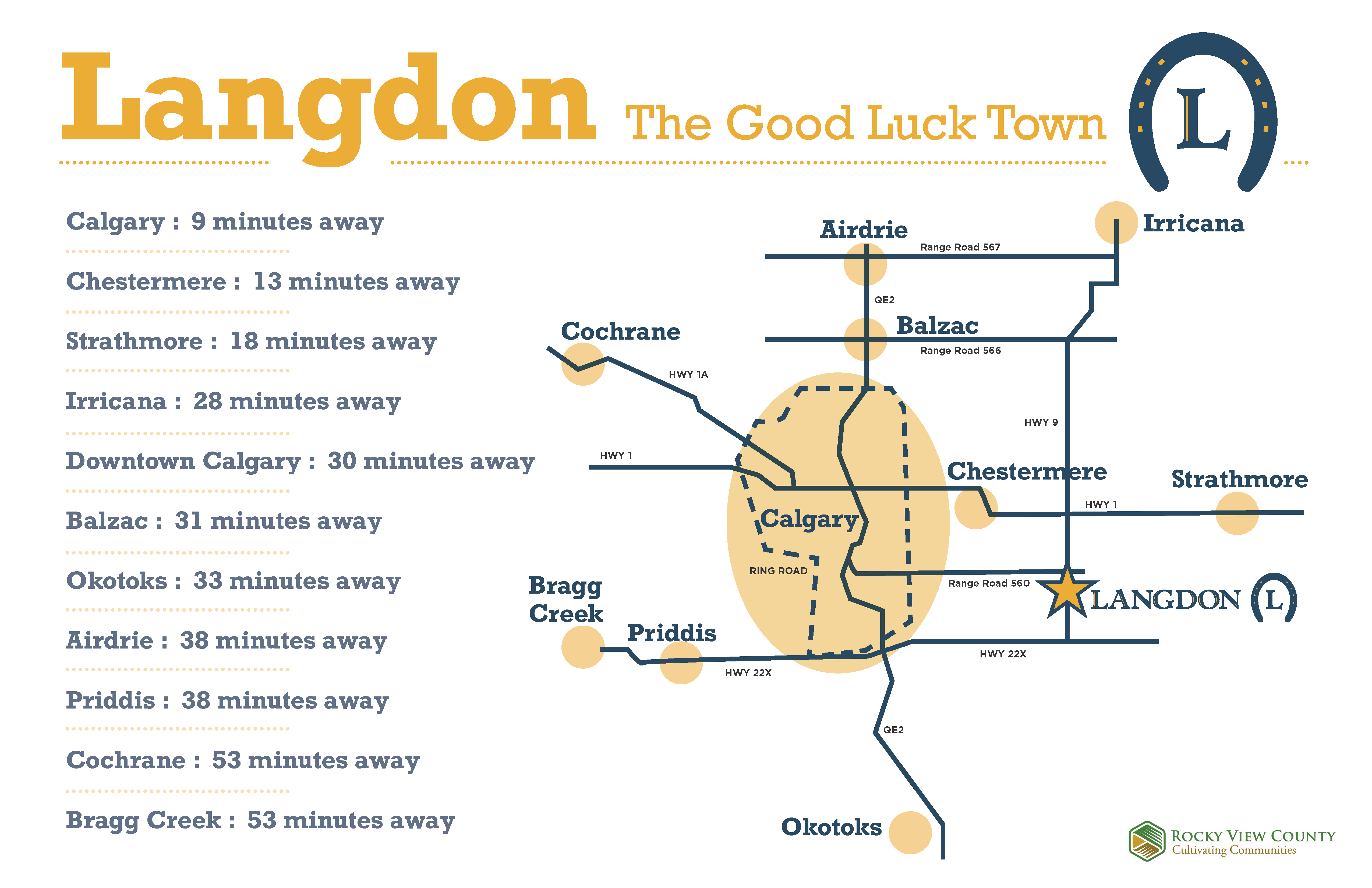 Emergencies
Langdon is serviced by Langdon Fire Station 111 which is a volunteer station providing fire coverage for the southeast area of the County.
Call 911 for medical emergencies. Rocky View County is serviced by ground ambulances operated by Alberta Health Services.
The nearest acute care hospitals with emergency services are:
Call 911 for all emergencies.
Garbage & Recycling
Langdon has curbside waste pickup, a transfer site for household garbage and recyclables, and a bottle depot.
You can report a waste collection issue with our online form or by calling 403.520.6378.
Location
505 Railway Ave, Langdon View map
Contact
403-936-3649 (during operating hours)

403-230-1401 (after hours)
Hours
Wednesday: 11 a.m. – 7 p.m.

Saturday: 9 a.m. – 5 p.m.
Accepted Materials
Household garbage (1

tag-a-bag ticket

per bag)

Cardboard

Newspaper

Mixed paper

Metal

Clear glass (no ceramics, light bulbs, mirrors)

Household hazardous waste

Fluorescent light bulbs (residential)

Automotive batteries

Electronic waste

Used clothing

Appliances (fridges, freezers and water coolers – a fee applies for Freon removal, see

Master Rates Bylaw

)

Grass and leaves (seasonal)

Christmas trees (seasonal)

Branches-less than 6 in. diameter (no stumps, these would be garbage)

Cell phones

Propane Tanks

Household plastics (must be clean, no styrofoam)

Used motor oil and containers (do not rinse containers)

Gear oil, hydraulic oil, transmission fluid

Oil filters

Paint (

list of eligible paints

[PDF])

Tires (rims removed)

Bunker bags, silage tarps, bale wrap (must be rolled)

Wire (must be rolled and free of non-metal items)

Bale twine (must be free of debris and in clear bags)

Obsolete agricultural pesticides

Empty agricultural pesticide containers (must be triple rinsed)
RCMP
Responsible for keeping the peace, preventing crimes and investigating crimes already committed.
Rocky View County Enforcement & Compliance
Responsible for public safety, promoting traffic safety, protecting County roads and infrastructure and enforcing County bylaws.
Langdon Citizens on Patrol
Langdon Community Association
Langdon Post Office
107 Centre St, Langdon, AB T0J 1X0 
(403) 936-0060
Utilities
The County currently has a franchise agreement with Langdon Waterworks to provide water service. For more information call 403.936.5161 or visit the Langdon Waterworks website.
Wastewater
Wastewater services are managed by Aquatech Canadian Water Services. For help and information call their 24-hour number at 403.352.8151.
Electricity & Natural Gas
Electricity and natural gas are deregulated in Alberta. The Alberta Government has a website to assist customers with choosing a provider for a residence or business. Contact your distributor in the event of a natural gas emergency.
Please contact Fortis Alberta for electrical emergencies, power and streetlight outages at 403.310.9473 or at the Fortis Alberta website.