Welcome to the Langdon Chamber of Commerce
What's New
Light Up Langdon - Tree Lighting
Light Up Langdon Christmas Tree Decorating Contest in Partnership w/ Langdon Community Association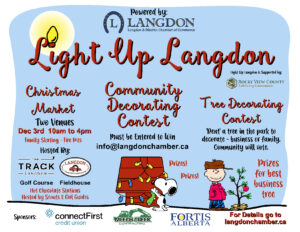 Decorating starts on Nov 15th – 22nd for Business Entries
Decorating starts on Nov 23rd – Dec 2nd for Family/Residential Entries
Registration NOW Open HERE
The community will vote on their favorite tree, and the tree lighting will happen Dec 3rd around 4:30 pm.
VOTE for your favorite tree HERE
Join us for our first Light Up Langdon Christmas Market.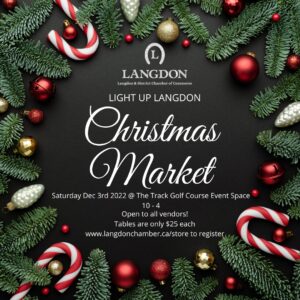 Saturday December 3, 2022 at the Track Golf Course Event Centre
&
Langdon Field House
10am – 4pm
Member Meetings
Join us at our next member meeting!
We will have our regional reps Todd & Tammy Williams from Chambers Plan for a presentation and Q&A
& 
Indus Travel for a special Announcement!
December 14, 2022
12:00 – 1:00 PM
Light Snacks Provided
Rocky View Utilities Boardroom
or 
Zoom
A Rich History and a Vibrant Future
The Hamlet of Langdon has a rich western prairie heritage dating back over a century. When the Canadian Pacific Railway moved across the prairies serving the needs of the families who flocked to the area for the rich ranch and farmland. The firm, Langdon & Shepard, was subcontracted by the Canadian Pacific Railway to establish service to the large prairie east of Calgary and they created the Langdon station, which became the heart of the community.
By 1892, the post office, and an additional store, as well as four houses, were built. A telegraph office was added to the community in 1899. During the early 1900s, Langdon underwent rapid growth with a population of around 800 persons. Development of the community continued with the construction of a bank, general and hardware store, hotel, drug store, newspaper and lawyer's office. Langdon was incorporated as a village in 1908, which would be later dissolved in 1946. The bustle of activity in the early industrious years of the 1920s brought the population to approximately 2,000 residents.
Community Spirit was at the heart of day to day life. Streets in Langdon today are aptly named in honour of the homesteading families that gave life to Langdon over a century ago, a way of having history live on. The Community of Langdon became well known as the "GOOD LUCK TOWN" around 1908, in part due to the lack of deaths in the area over a 25-year period. Langdon was also located on the horseshoe shaped railway turnaround, adding to the Good Luck Town status. This horseshoe, however, is not very traditional, as it is upside down in appearance, pouring Good Luck to those who reside within the community.
Located within the Eastern boundaries of Rocky View County, the Hamlet of Langdon has changed a lot over the last decade. Conveniently located just short drive from the Cities of Calgary and Chestermere and the Town of Strathmore, Langdon is home to over 5,000 residents and hundreds of businesses dedicated to serving the community.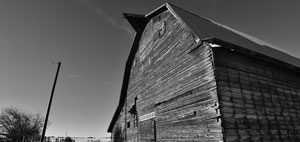 APPLY TODAY
Membership Application
---
We welcome all businesses, and those passionate about the future of Langdon to apply for membership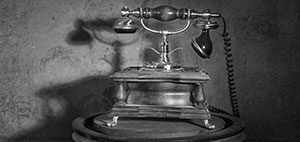 IMPORTANT!
Langdon Information
---
All the important and frequently needed phone numbers for Langdon, and Rocky View County
WHO DO I CALL?
Business Directory
---
A one stop page to get in touch with LDCC business members