Whether you are a current resident or looking at relocating to Langdon, below you will find the most frequently requested phone numbers and information for Langdon & Rocky View County. Should you not find what you are looking for, please do not hesitate to reach out and we will do our best to help you.
A Rich History and a Vibrant Future
The Hamlet of Langdon has a rich western prairie heritage dating back over a century. When the Canadian Pacific Railway moved across the prairies serving the needs of the families who flocked to the area for the rich ranch and farmland. The firm, Langdon & Shepard, was subcontracted by the Canadian Pacific Railway to establish service to the large prairie east of Calgary and they created the Langdon station, which became the heart of the community.
By 1892, the post office, and an additional store, as well as four houses, were built. A telegraph office was added to the community in 1899. During the early 1900s, Langdon underwent rapid growth with a population of around 800 persons. Development of the community continued with the construction of a bank, general and hardware store, hotel, drug store, newspaper and lawyer's office. Langdon was incorporated as a village in 1908, which would be later dissolved in 1946. The bustle of activity in the early industrious years of the 1920s brought the population to approximately 2,000 residents.
Community Spirit was at the heart of day to day life. Streets in Langdon today are aptly named in honour of the homesteading families that gave life to Langdon over a century ago, a way of having history live on. The Community of Langdon became well known as the "GOOD LUCK TOWN" around 1908, in part due to the lack of deaths in the area over a 25-year period. Langdon was also located on the horseshoe shaped railway turnaround, adding to the Good Luck Town status. This horseshoe, however, is not very traditional, as it is upside down in appearance, pouring Good Luck to those who reside within the community.
Located within the Eastern boundaries of Rocky View County, the Hamlet of Langdon has changed a lot over the last decade. Conveniently located just short drive from the Cities of Calgary and Chestermere and the Town of Strathmore, Langdon is home to over 5,000 residents and hundreds of businesses dedicated to serving the community.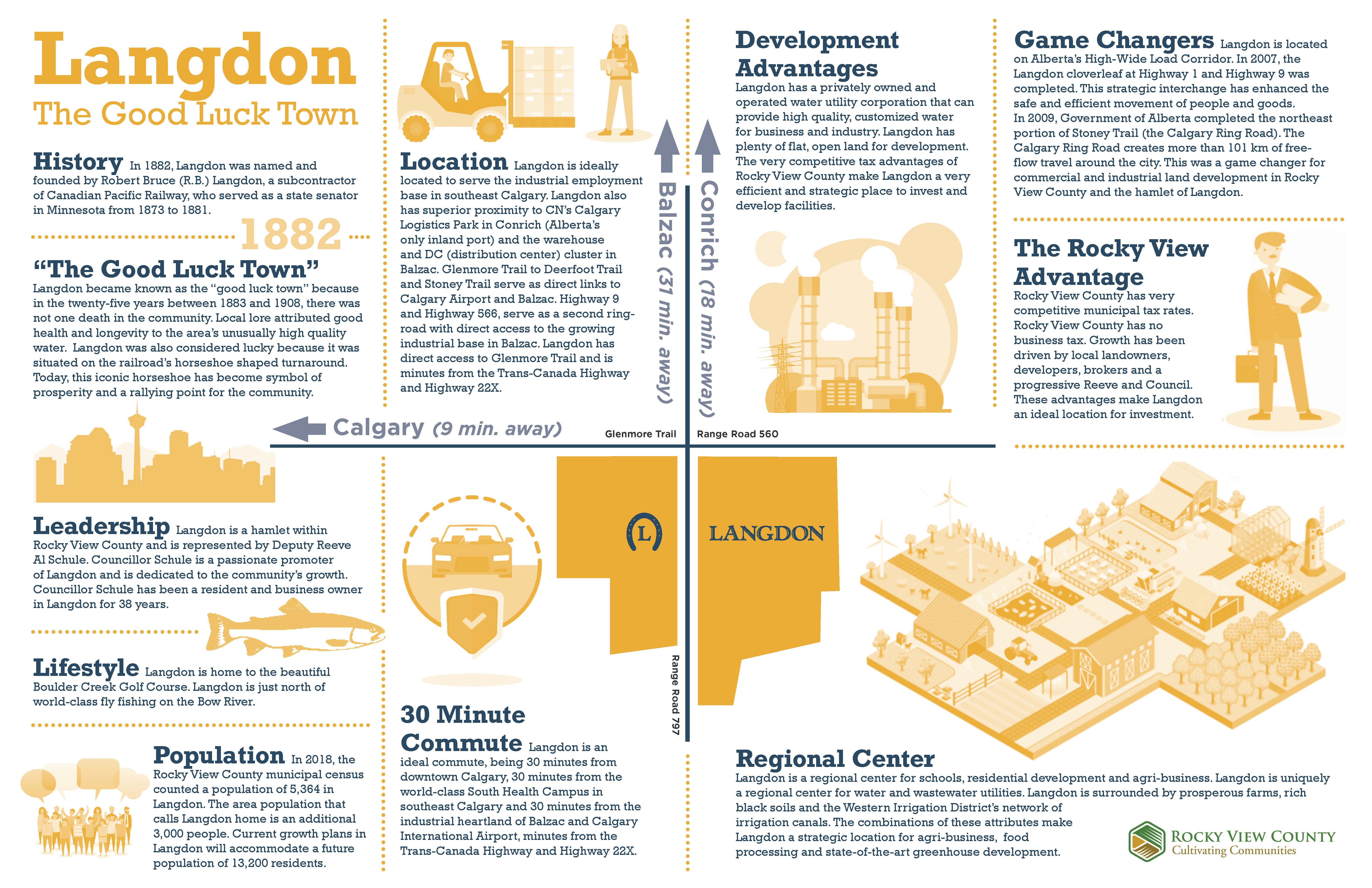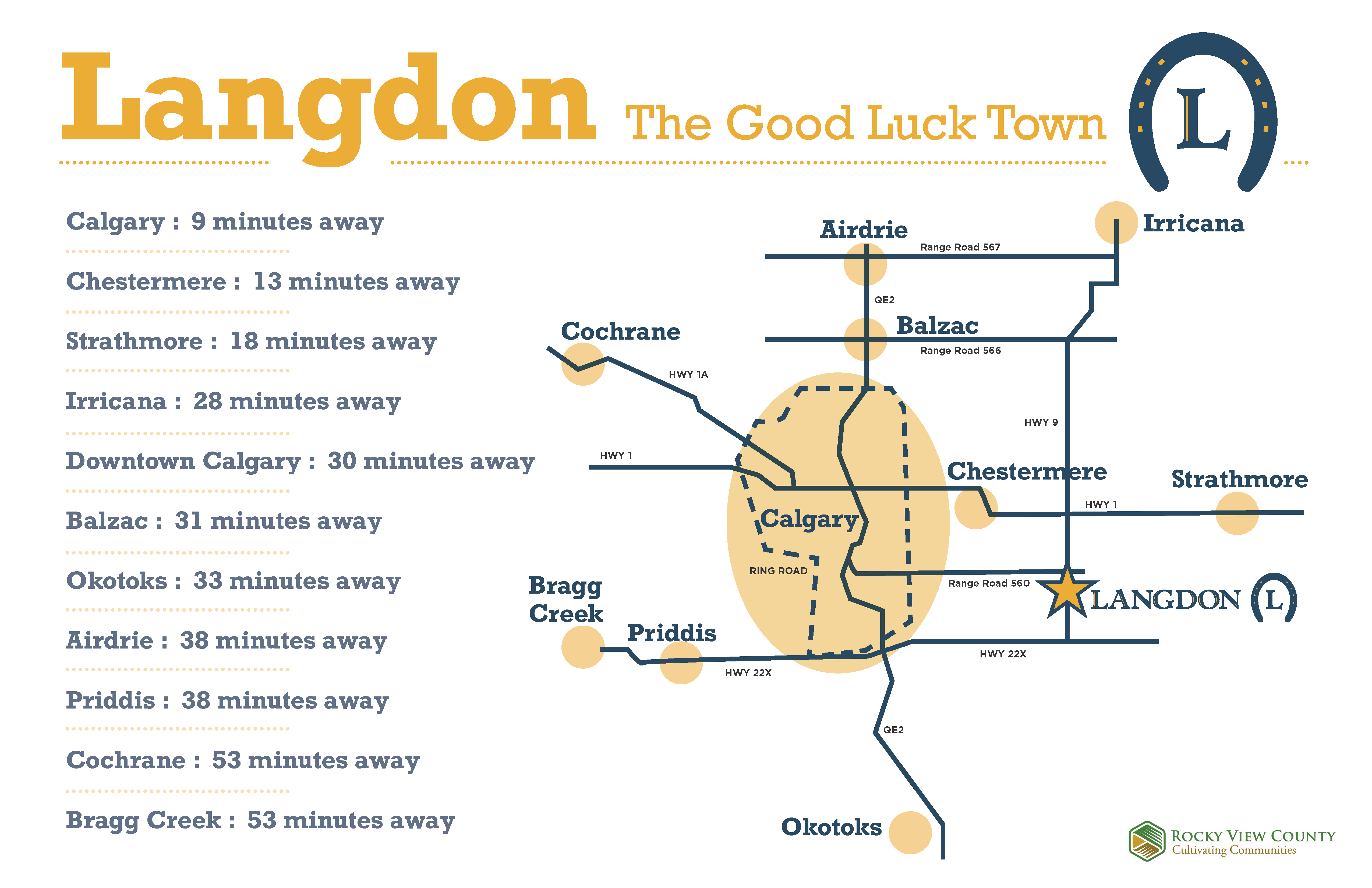 Emergencies
Langdon is serviced by Langdon Fire Station 111 which is a volunteer station providing fire coverage for the southeast area of the County.
Call 911 for medical emergencies. Rocky View County is serviced by ground ambulances operated by Alberta Health Services.
The nearest acute care hospitals with emergency services are:
Call 911 for all emergencies.
Garbage & Recycling
Langdon has curbside waste pickup, a transfer site for household garbage and recyclables, and a bottle depot.
You can report a waste collection issue with our online form or by calling 403.520.6378.
Location
505 Railway Ave, Langdon View map
Contact
403-936-3649 (during operating hours)

403-230-1401 (after hours)
Hours
Wednesday: 11 a.m. – 7 p.m.

Saturday: 9 a.m. – 5 p.m.
Accepted Materials
Household garbage (1

tag-a-bag ticket

per bag)

Cardboard

Newspaper

Mixed paper

Metal

Clear glass (no ceramics, light bulbs, mirrors)

Household hazardous waste

Fluorescent light bulbs (residential)

Automotive batteries

Electronic waste

Used clothing

Appliances (fridges, freezers and water coolers – a fee applies for Freon removal, see

Master Rates Bylaw

)

Grass and leaves (seasonal)

Christmas trees (seasonal)

Branches-less than 6 in. diameter (no stumps, these would be garbage)

Cell phones

Propane Tanks

Household plastics (must be clean, no styrofoam)

Used motor oil and containers (do not rinse containers)

Gear oil, hydraulic oil, transmission fluid

Oil filters

Paint (

list of eligible paints

[PDF])

Tires (rims removed)

Bunker bags, silage tarps, bale wrap (must be rolled)

Wire (must be rolled and free of non-metal items)

Bale twine (must be free of debris and in clear bags)

Obsolete agricultural pesticides

Empty agricultural pesticide containers (must be triple rinsed)
RCMP
Responsible for keeping the peace, preventing crimes and investigating crimes already committed.
Rocky View County Enforcement & Compliance
Responsible for public safety, promoting traffic safety, protecting County roads and infrastructure and enforcing County bylaws.
Langdon Citizens on Patrol
Langdon Community Association
Langdon Post Office
UPDATE: Temporarily Unavailable/Postal Service Routed to Strathmore
107 Centre St, Langdon, AB T0J 1X0 
(403) 936-0060
Utilities
The County currently has a franchise agreement with Langdon Waterworks to provide water service. For more information call 403.936.5161 or visit the Langdon Waterworks website.
Wastewater
Wastewater services are managed by Aquatech Canadian Water Services. For help and information call their 24-hour number at 403.352.8151.
Electricity & Natural Gas
Electricity and natural gas are deregulated in Alberta. The Alberta Government has a website to assist customers with choosing a provider for a residence or business. Contact your distributor in the event of a natural gas emergency.
Please contact Fortis Alberta for electrical emergencies, power and streetlight outages at 403.310.9473 or at the Fortis Alberta website.
Internet (Phone/Security/TV)