Stay up to date on all things Langdon, Langdon & District Chamber of Commerce and Rocky View County. Here you will find newsletters, LDCC meeting minutes, RVC Council updates, Letters to and from different levels of Government Officials, and local updates.
More relief is on the way for Albertans and Alberta employers. The government has made three significant decisions that will give Albertans and Alberta employers additional supports as they deal with the impacts of the COVID-19 crisis. "Our priority is to keep our province strong while ...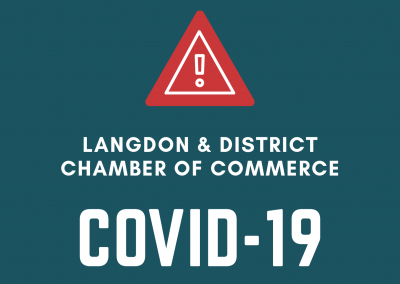 COVID-19 was declared a global pandemic by WHO (World Health Organization), and a Public Health Emergency by the Government of Alberta on March 17, 2020. We will be updating this page often to keep Langdon residents and businesses informed on important information regarding the virus and how ...
Update on COVID-19 in Alberta from the Chief Medical Officer: Aggressive public health measures are being implemented across the province to help limit the spread of COVID-19 in Alberta. These new measures include: SCHOOLS, POST-SECONDARY INSTITUTIONS • Effective immediately, student ...
Update on COVID-19 in Alberta from the Chief Medical Officer EMPLOYMENT STANDARDS CHANGES • Employees can take 14 days of paid, job protected leave if they're required to self-isolate, are sick or caring for a loved one. • A medical note is not required to access this leave and do not ...
We would like to speak to you about business resiliency during the pandemic of COVID-19. While the risk in Alberta is still low, more and more confirmed and suspected cases are being advised daily. There are things you can do in your business to minimize the impact of this pandemic to your ...
Alberta public health officials are recommending the following actions as a precaution: If employees have visited a Grand Princess Cruise, Iran or China's Hubei province in the last 14 days, it is recommended they isolate themselves until two weeks have passed since that visit. This is ...